Choose the Best Dumpster Rental Harlem GA Has to Offer With Dumpster Daddy
Book the dumpster rental Harlem GA residents, business owners, and contractors trust for projects of all scopes and sizes from the team at Dumpster Daddy! Our locally owned and operated business proudly serves Harlem, Georgia, and surrounding communities by providing the heavy-duty equipment and reliable waste management services needed to keep our city waste-free and functional. Our prompt deliveries, affordable prices, dedication to our customers' satisfaction, and relentless professionalism have made us the trusted source for handling all short- and long-term waste containment needs.
When you book the dumpster rental Harlem GA chooses first, you're guaranteed to receive a high-quality bin that will meet your project's every need for a price that won't hurt your budget. As a community-driven company, we've created a cost-effective pricing structure to take the stress out of any residential, commercial, or construction project.
Conveniently book the dumpster rental Harlem GA depends on for every project with our easy-to-use online booking system! Browse our inventory and schedule a delivery in just a few simple steps to complete your projects in a hassle-free manner. From downsizing your home to a large-scale construction job and everything in between, our Harlem GA roll off is the best choice to help you reach your waste disposal goals with ease. Give us a call at (706) 842-7077 or book online with us today!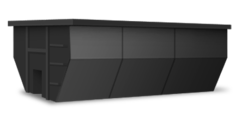 Dimensions
12'L x 8'W x 4'H
Included Tonnage
2 included
Additional Days
:
$5/day
Extra Weight
:
$50/ton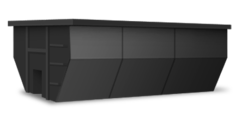 Dimensions
12'L x 8'W x 4.5'H
Included Tonnage
2 included
Additional Days
:
$5/day
Extra Weight
:
$50/ton
We take just about everything
Some examples of the junk we haul away include:
Refrigerator Disposal

Garbage Removal

Mattress Disposal

Foreclosure Clean Outs
Construction Waste Removal

Yard Waste Removal

Trash Removal

Appliance Removal
Television Disposal

Furniture Removal

E-Waste Disposal

Hot Tub Disposal
Reliable Dumpster Rental in Harlem GA for All Projects
No matter what project you're facing, you can count on our dumpster rental in Harlem GA to help you see it through! Our unfailing services and equipment are trusted by residents, contractors, property managers, and commercial entities throughout Richmond County for all immediate and ongoing waste management needs. Whether you're completing home renovations, demolishing a building, or are in need of reliable services for your business, our local company is there for you!
When you book a dumpster rental in Harlem GA that won't let you down, you can trust that your waste is in good hands. We gladly partner with Columbia County Landfill to ensure that all waste is disposed of in an ethical manner that is in compliance with local, county, and state regulations. For projects of all types and intensities, book the strongest roll off trash dumpster Harlem GA has to offer at Dumpster Daddy by calling or booking online today!
Dependable Dumpster Service Harlem GA Residents Choose First
Book the dumpster service Harlem GA residents choose for all home projects from the team of experts at Dumpster Daddy! Our reliable, reasonably-priced bins are perfect for maintaining organization while completing residential jobs like small renovations and repairs, junk downsizing, preparing for an estate sale, disposing of broken appliances, garage and attic tidying, foreclosure cleanouts, and more. Our containers are designed to protect your driveway while tossing out any mattresses, televisions, furniture, refrigerators, and any garbage that's getting in your way. For residential projects of all sizes, trust the toughest dumpster Harlem GA has to offer and book online with us today!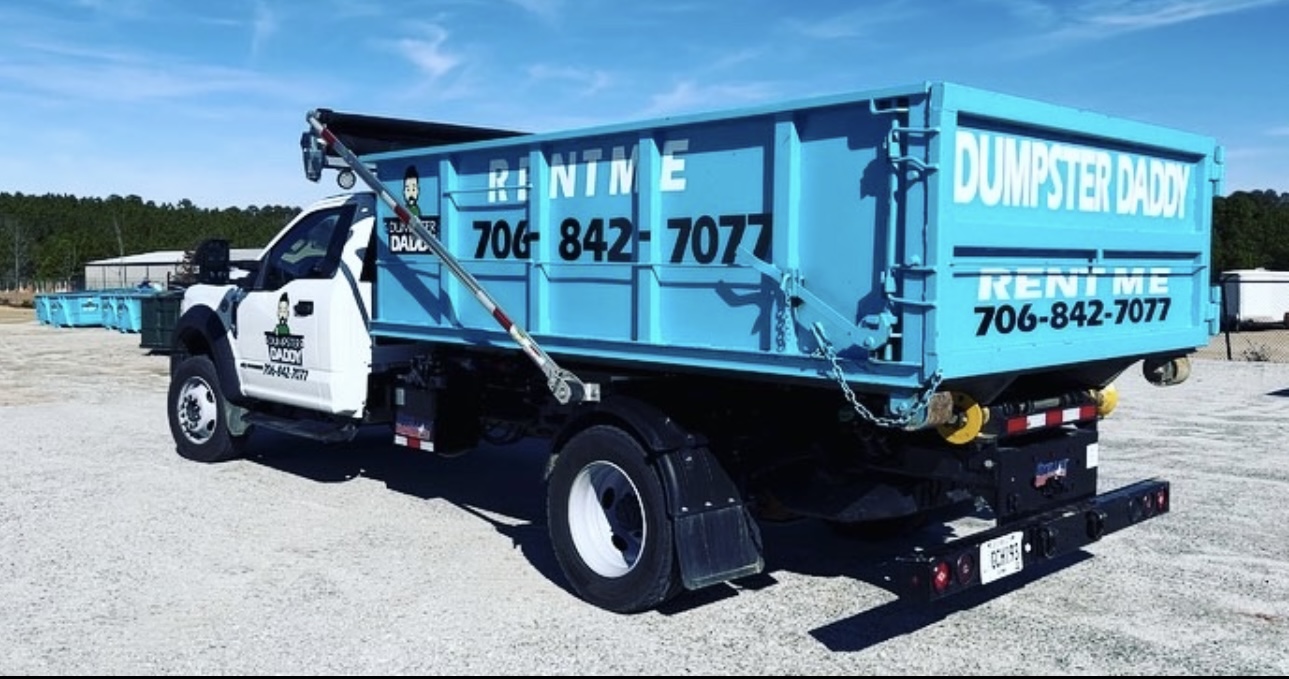 Roll Off Containers Harlem GA Uses for All Yard Projects
If you're searching for the roll off containers Harlem GA relies on for yard projects, Dumpster Daddy is the right choice for you. Our driveway-friendly, easy-loading bins will protect your yard or property while you clear your lawn of brush and debris, redesign your landscape, complete outdoor renovations, or dispose of your outdated equipment. Whether you're cleaning up after a storm or creating the garden you've always wanted, our containers will help you get the job done. Give us a call or book online today to make the bargain dumpster Harlem GA trusts most a part of your next project!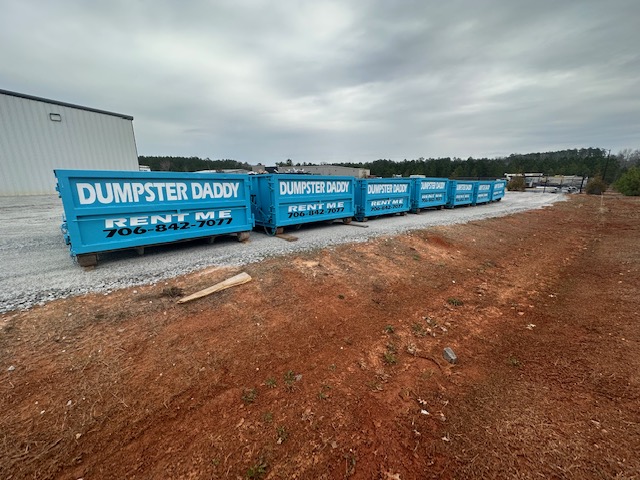 Rent a Dumpster Harlem GA Contractors Count On
Rent a dumpster Harlem GA contractors depend on for all commercial construction projects from Dumpster Daddy! Our local company provides project managers and general laborers with the tough and reliable equipment necessary to keep any worksite functional, safe, and organized when completing jobs like demolitions, repairs, or new infrastructure construction. When you need a sturdy bin to hold all of your tile, drywall, shingles, asphalt, wood, and more from a company you can trust, our Harlem, GA dumpster rental is there for you. Browse our inventory and schedule a delivery online today for your next construction endeavor, and leave the waste hauling to our team of professionals.
Dumpster Roll Off Harlem GA Roofers Can Depend On
Book the dumpster roll off Harlem GA roofers count on at Dumpster Daddy! Our durable bins feature industry-leading open-top designs to allow for the safe and easy loading of all the asphalt, slate, wood, ceramic, metal roofing, and more that results from any roofing job. Easily complete any roofing repair, renovation, or replacement endeavor with the help of our exceptional containers at a price that won't hurt your budget! Give us a call or book online today to get the Harlem GA dumpster rental price roofers depend on year-round for every project type.
Why You Should Choose Us for the Roll Off Dumpster Harlem GA Trusts
Book the roll off dumpster Harlem GA chooses first from Dumpster Daddy! Our first-rate bins are sourced exclusively from the industry's leading and most reputable manufacturers and are meticulously cleaned, inspected, and sanitized regularly to ensure that every customer receives the sturdy container they need in the clean condition they deserve.
Each of our dumpsters features convenient open-top designs for safe and easy loading and is specially created to prevent any damage to your driveway, home, or worksite during delivery and use.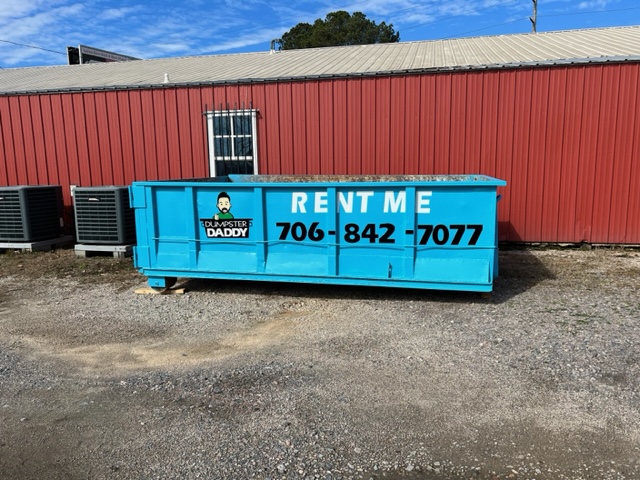 Our locally owned company happily supplies the roll off dumpster Harlem GA can bank on while completing any project. Our high-quality equipment, unbeatable professionalism, and reliable services have allowed us to create long-lasting partnerships with the residents and local businesses in Richmond County to assist in keeping our beloved community clean and safe for all citizens and visitors. When you're faced with a project, trust the best roll off containers Harlem GA has to offer and book online with us today!


How to Book the Harlem GA Dumpster Rental That Won't Let You Down
Easily book an Harlem GA dumpster rental that won't disappoint from any smart device with our streamlined online booking system. Simply click any of the blue "Book Now" buttons displayed throughout our website, view our available dumpster inventory, and add your desired bin to the cart by clicking the blue "Add to Cart" button. Next, choose between "Contractor/Commercial Use" or "Homeowner" as your service type, provide us with your billing and delivery details, and complete the payment on our secure system with any major credit card. Once the transaction is complete, you'll receive a confirmation email that contains a receipt, and our friendly staff will reach out to schedule a delivery that is most convenient for you.
Alternatively, schedule your Harlem GA dumpster rental delivery over the phone by calling (706) 842-7077, where our team will be happy to get you taken care of. No matter the size or scope of your project, you can't go wrong by booking the most reliable trash dumpster services Harlem GA has to offer at Dumpster Daddy!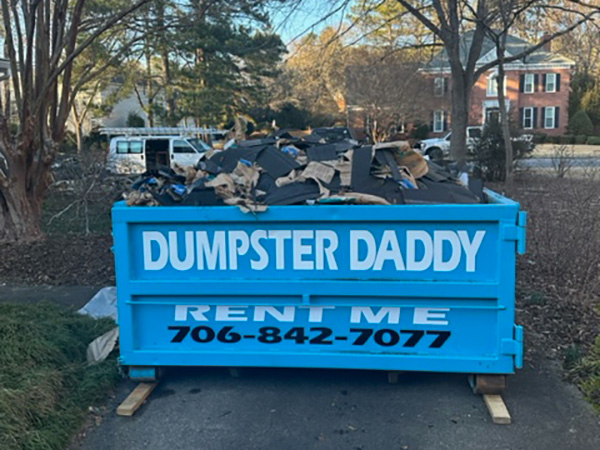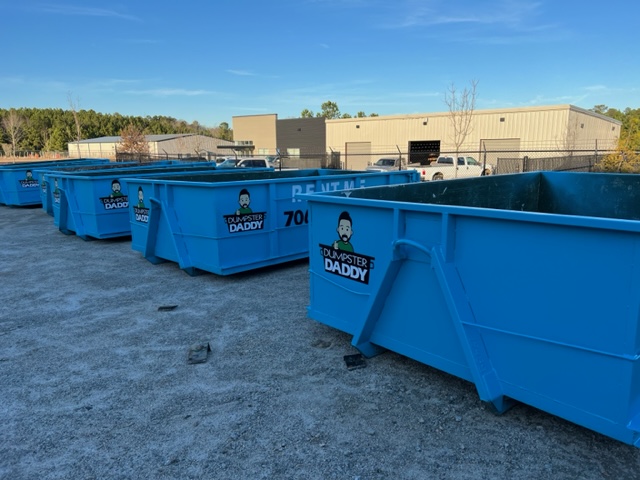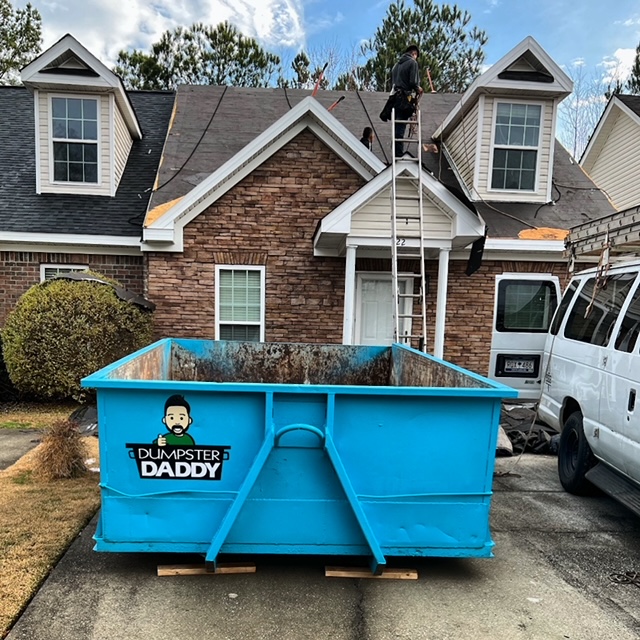 Desirable Sizes and Prices for Sturdy Harlem, GA Dumpster Rentals
Dumpster Daddy offers a range of premium Harlem, GA dumpster rentals to suit any project's demands and budget. Our 10-yard dumpster is a favorite among customers faced with residential jobs such as home renovations and repairs, gardening, landscape design, foreclosure cleanouts, downsizing, or estate sales. This well-built container is ready to hold up to two tons of your waste for only $350 and a rental period of up to seven days.
Our 15-yard dumpster is a must-have for commercial construction, roofing, and other labor-intensive jobs like demolitions, outdoor renovations and repairs, and hoarding situations. This heavy-duty bin is the ideal size to conveniently place at any home or work site. With a base price of $375 and a rental time of up to seven days, this reliable can is big enough to manage up to two tons of waste while completing any large-scale project with ease.
We extend the option to add extra days to the standard rental time for only $5 per day and additional tonnage for $50 per ton to suit the needs of every customer. There's no need to worry about the average cost to rent a roll off dumpster in Harlem GA when you book with our local business!
Delivering the Roll Off Dumpster Rental Harlem GA Relies On to Surrounding Areas
Dumpster Daddy gladly delivers the roll off dumpster rental Harlem GA depends on for all projects to a broad scope of Richmond County, including the 30814 zip code. Our reliable services extend to the Martinez, Stapletown, Harlem, Wrens, Grovetown Bath, Gracewood, Modoc, Blythe, Beech Island, Hephzibah, Gough, Dearing, Evans, Clearwater, Clarks Hill, Augusta, Thomson, Matthews, and Boneville communities. When searching for the best dumpster rental Martinez GA has to offer, we're the best bet! If you don't see your zip code or city listed here, just give us a call, and we will do our best to accommodate any needs located outside of our service area.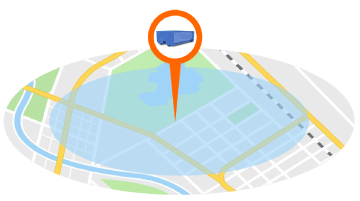 Our local company proudly partners with the Columbia County School District as well as other local businesses and organizations to provide the dependable waste management services needed to take care of our community. Whether residents or tourists are enjoying the Harlem Museum and Welcome Center or one of our amazing local restaurants, our small business is proud to take part in keeping our treasured city a clean and enjoyable place to experience. Call or book online to book the most trustworthy dumpster rental near Harlem GA today!
View Service Area
FAQs About the Roll Off Dumpster Harlem GA Brags About
You've got questions about the roll off dumpster Harlem GA trusts most, and we've got answers! We've included a list of our most frequently asked questions below for to browse at your convenience. If you need more information or have additional questions, give us a call at (706) 842-7077 and our professionals will be happy to help!
Q.
How can I schedule a delivery?
A.
Book the roll off dumpster Harlem GA trusts most by calling us at (706) 842-7077 or by taking advantage of our user-friendly online booking system! With a couple of clicks, you'll be on your way to reserving a roll off bin in no time.
Q.
Can I add days to my rental time?
A.
Absolutely! Extend your rental time for only $5 per day. Just give us a call and let us know if you need more time for the trash dumpster services Harlem GA small business owners, residents, and contractors depend on.
Q.
Are any items prohibited from the dumpster rental?
A.
We ask that you refrain from including any flammables, oils, lubricants, propane tanks, aerosol cans, or other hazardous materials in your loaded waste to prevent harm to our equipment or staff and to abide by all local waste disposal regulations. If you're unsure about an item, just give us a call and we can help!